Turning Pro — The War of Art for Creatives
Tom Hosiawa • 5 mins read
The too long; didn't read (tl;dr) series is my application of what Richard Feynman once said. To understand something, explain it as if you were teaching it to someone who doesn't understand the subject. See Will Schroder – How to remember everything you learn.
We all struggle with this to a point. With creatives, more so.
These are simply my favourite parts from the book.
I, too, used to play for fun, for the love of the game, overambitious and unrealistic timetables, and didn't distance myself from my work — the game was my hobby. Now I'm turning pro.
---
tl;dr on "The War of Art"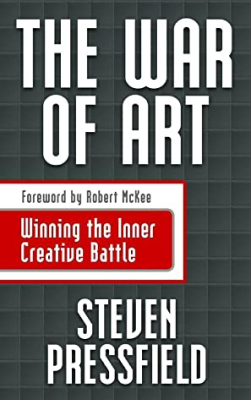 ---
Turning Professional
I power down. It's three, three-thirty. The office is closed. How many pages have I produced? I don't care. Are they any good? I don't even think about it. All that matters is I've put in my time and hit it with all I've got. All that counts is that, for this day, for this session, I have overcome Resistance.

Aspiring artists defeated by Resistance share one trait. They all think like amateurs. They have not yet turned pro. The amateur plays for fun. The professional plays for keeps.

To the amateur, the game is their avocation. To the pro it's their vocation. The amateur plays part-time, the professional full-time. The amateur is a weekend warrior. The professional is there seven days a week.

The word amateur comes from the Latin root meaning "to love." The conventional interpretation is that the amateur pursues their calling out of love, while the pro does it for money. Not the way I see it. In my view, the amateur does not love the game enough. If they did, they would not pursue it as a sideline, distinct from their "real" vocation.

The professional loves it so much they dedicate their life to it. They commit full-time.

By performing the mundane physical act of sitting down and starting to work, they set in motion a mysterious but infallible sequence of events that would produce inspiration.
---
A Professional
IS FOR LOVE OF THE GAME.
IS PATIENT.
DEMYSTIFIES.
ACTS IN THE FACE OF FEAR.
ACCEPTS NO EXCUSES.
PLAYS IT AS IT LAYS.
IS PREPARED.
DOES NOT SHOW OFF.
DEDICATES THEMSELVES TO MASTERING TECHNIQUE.
DOES NOT HESITATE TO ASK FOR HELP.
DISTANCES THEMSELF FROM THEIR INSTRUMENT.
DOES NOT TAKE FAILURE (OR SUCCESS) PERSONALLY.
ENDURES ADVERSITY.
SELF-VALIDATES.
RECOGNIZES THEIR LIMITATIONS.
---
Here's how I put this into work
Block off time on your calendar for your goals. Choose what you want to be a professional at. See So many interests. How do I pick just one?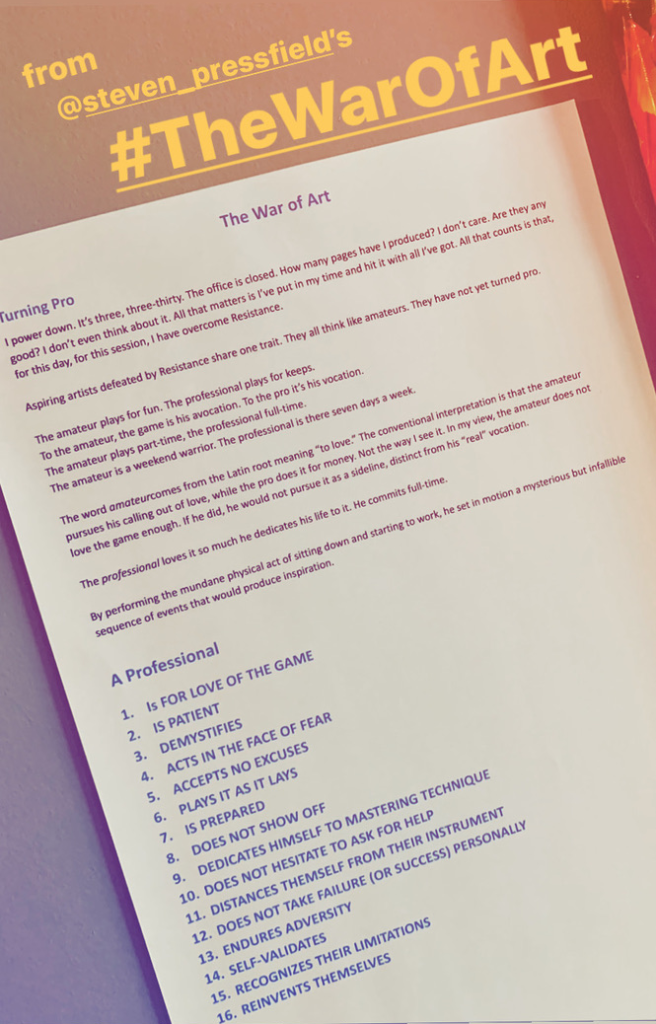 ---
My Highlights
Resistance outwits the amateur with the oldest trick in the book: It uses their own enthusiasm against them. Resistance gets us to plunge into a project with an overambitious and unrealistic timetable for its completion. It knows we can't sustain that level of intensity. We will hit the wall. We will crash.

The professional, though they accept money, does their work out of love. They have to love it. Otherwise they wouldn't devote their life to it of their own free will.

The professional has learned, however, that too much love can be a bad thing. Too much love can make them choke. The seeming detachment of the professional, the cold-blooded character to their demeanour, is a compensating device to keep them from loving the game so much that they freeze in action.

Technically, the professional takes money. Technically, the pro plays for pay. But in the end, they do it for love.
The professional arms themself with patience, not only to give the stars time to align in their career, but to keep themself from flaming out in each individual work. They know that any job, whether it's a novel or a kitchen remodel, takes twice as long as they think and costs twice as much. They accept that. They recognize it as reality.

The professional steels themself at the start of a project, reminding them it is a distant place, not the sixty-yard dash. They conserve their energy. They prepare their mind for the long haul. They sustain themself with the knowledge that if they can just keep those huskies mushing, sooner or later the sled will pull in to home.

The professional conducts their business in the real world. Adversity, injustice, bad hops and rotten calls, even good breaks and lucky bounces all comprise the ground over which the campaign must be waged. The field is level, the professional understands, only in heaven.
The professional understands that Resistance is fertile and ingenious. It will throw stuff at them that they've never seen before.

The professional prepares mentally to absorb blows and to deliver them. Their aim is to take what the day gives them. They are prepared to be prudent and prepared to be reckless, to take a beating when they have to, and to go for the throat when they can. They understand that the field alters every day. Their goal is not victory (success will come by itself when it wants to) but to handle themself, their insides, as sturdily and steadily as they can.
A professional's work has style; it is distinctively their own. But they don't let their signature grandstand for them. Their style serves the material. They do not impose it as a means of drawing attention to themself.
The professional respects their craft. They do not consider themselves superior to it. They recognize the contributions of those who have gone before them. They apprentice themselves to them.

The professional dedicates themself to mastering technique not because they believe technique is a substitute for inspiration but because they want to be in possession of the full arsenal of skills when inspiration does come. The professional is sly. They know that by toiling beside the front door of technique, they leave room for genius to enter by the back.
It would never occur to them, as it would to an amateur, that they know everything, or can figure everything out on their own. On the contrary, they seek out the most knowledgeable teacher and listens with both ears. The student of the game knows that the levels of revelation that can unfold in golf, as in any art, are inexhaustible.
The pro stands at one removed from their instrument— meaning their person, their body, their voice, their talent; the physical, mental, emotional, and psychological being they use in their work. They do not identify with their instrument.

It is simply what they're born with, what they have to work with.
An amateur lets the negative opinion of others unman them. They take external criticism to heart, allowing it to trump their own belief in themself and their work.
They know they can only be a professional at one thing. They bring in other pros and treat them with respect.