17 pitches. 17 rejections — Is there a better way?
Tom Hosiawa • 8 mins read
The first draft series is to show creating a business isn't a mystery. They emerge through a systematic and creative process. Every great novel. Every creative piece, starts with a first draft. Why am I not afraid to show mine — ideas are easy, great pieces take a hundred rewrites, execution is everything and it's damn hard!! See Interview with Noubar Afeyan.
I took Moe Ali's Product Faculty course in the fall of 2018. You can read about it [here].
It was 2018. Our team's product manager and I worked to put together the picture of what really happens when a company wants to go public (i.e. IPO) to the shares ending up in customer's accounts. I was curious, is there an angle to innovate with this for startups? I interviewed a founder (Marie), and a retail investor (Sara) interested in angel investing. This is my first draft pitch for the business and product based on my interviews.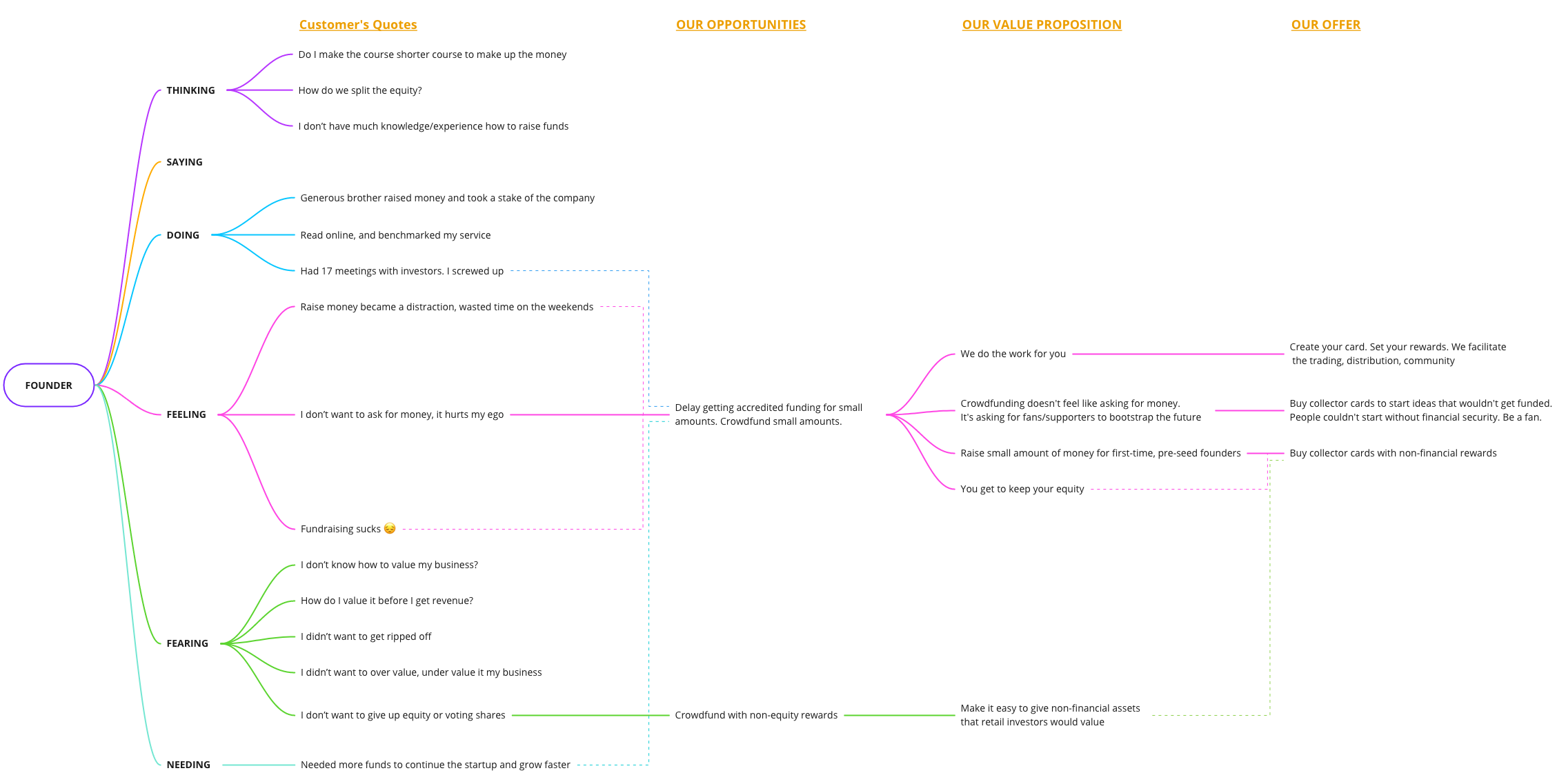 Take a peek at how I made this.
---
Business Opportunity - Angel Collect
Entrepreneurs and business founders tell us the hardest part about starting and growing their company pre-seed is:
"Raising money to start a company sucks 😔." "Every day my emotions go through:

I need more money to continue to grow.
I pitch. I get rejected.
I want to be fair — am I overvaluing? undervaluing myself?
I don't want to ask for money. I don't want to give up equity.
I had 17 meetings with investors — 17 rejections. It became a distraction. Wasted my time on the weekends."

— Marie (Founder)
Here's the reality founders face
All ambitious endeavors have a cold start problem. You need money to make money. — [Bo Ren]
We're not going to compete with angel and venture capitalists. We see an opportunity to build a new market after talking to retail investors who want to invest in startups but can't. They are kept out because they're short of making $200K a year and don't have a million in assets to be an accredited investor (in Canada).
Many retail investors understand the risks and have a decade of investing experience. Yet are short of the minimum qualifications. Here's what they tell us:
I have enough money to angel invest in a startup. I went to a startup event and felt embarrassed when other people knew I didn't have enough income/ assets. I'm excluded from feeling the pride of owning something. I feel like I don't belong in their club.
---
Our Opportunity
Every company has a purpose — a reason beyond making money. We're obsessed with uncovering questions/ mysteries in the world. What's required to grow the number of people investing their time and money into creating and owning their inventions? It's important to increase people's access to create new ways of doing things. To understand the value of investing in people and ideas. To make the experience one-step less painful.
Angel Collect: Crowdfund your next idea. Own and trade startups like any collectable asset (i.e. art, paper stock certificates, pokémon trading cards, athlete's rookie cards). Buy for $200 and watch the winners value go to $300, $500, …
From here on, we'll use these for simplicity:
Founders: are first-time or pre-seed business founders, entrepreneurs.
Investors: are retail investors with 7+ years of experience investing in stocks and options, and don't meet the qualifications to be an accredited investor.
Founders — delay the complexity and the pain of fundraising. Raise 10 to 50K to pursue your first or next business opportunity. Don't give up any equity. Instead, create a collectable asset with rewards. We find your investors and do the rest.
Investors — no qualifications, no income or asset minimums. Seed founders and innovations like a plant to grow them to the equity funding round (i.e. Series-A). Discover startups on a marketplace to help them grow. Feel the pride from buying and owning collectable assets - a non-financial-non-equity proxy to the startup. Benefit from asset scarcity — only you have access and control to view and show your family, friends, social network what you own.
Our product offer matches and fulfills investors to founder's needs.
Founders — create angel collectable assets for your business idea. Offer non-financial rewards, such as original and limited quantities. Offer financial rewards, such as future gifts or discounts on products and services. Add to our marketplace to let investors discover you. Valued like any collectable asset. Disclaimer: we don't allow the exchange of equity or debt.
Investors — Seed the growth of founders, their ideas and innovations. You decide what's important to you: is it discovering startups in your neighbourhood or non-tech hubs, in your interests, on problems they're solving, on the business stage they're at, on your budget. Buy, own, and trade angel collectable assets on a marketplace. Non-copyable. Only you can view and share it. You have full control of what others see — stay private or make it public.
Press Release Headline
Startup launches Angel Collectables — Collect, own, and trade startup collectables
Startup launches Angel Collectables — Raise money for your next idea without giving up equity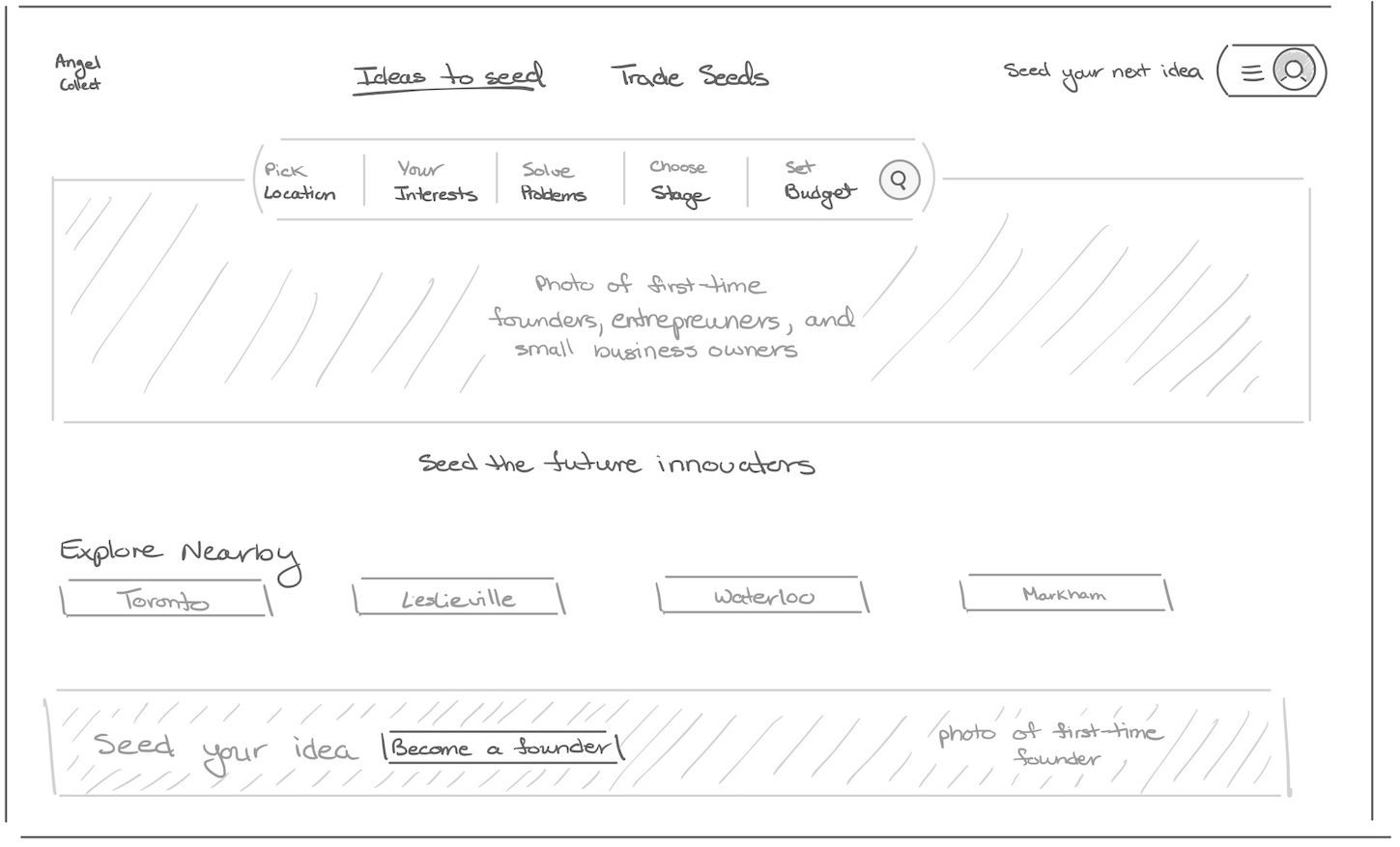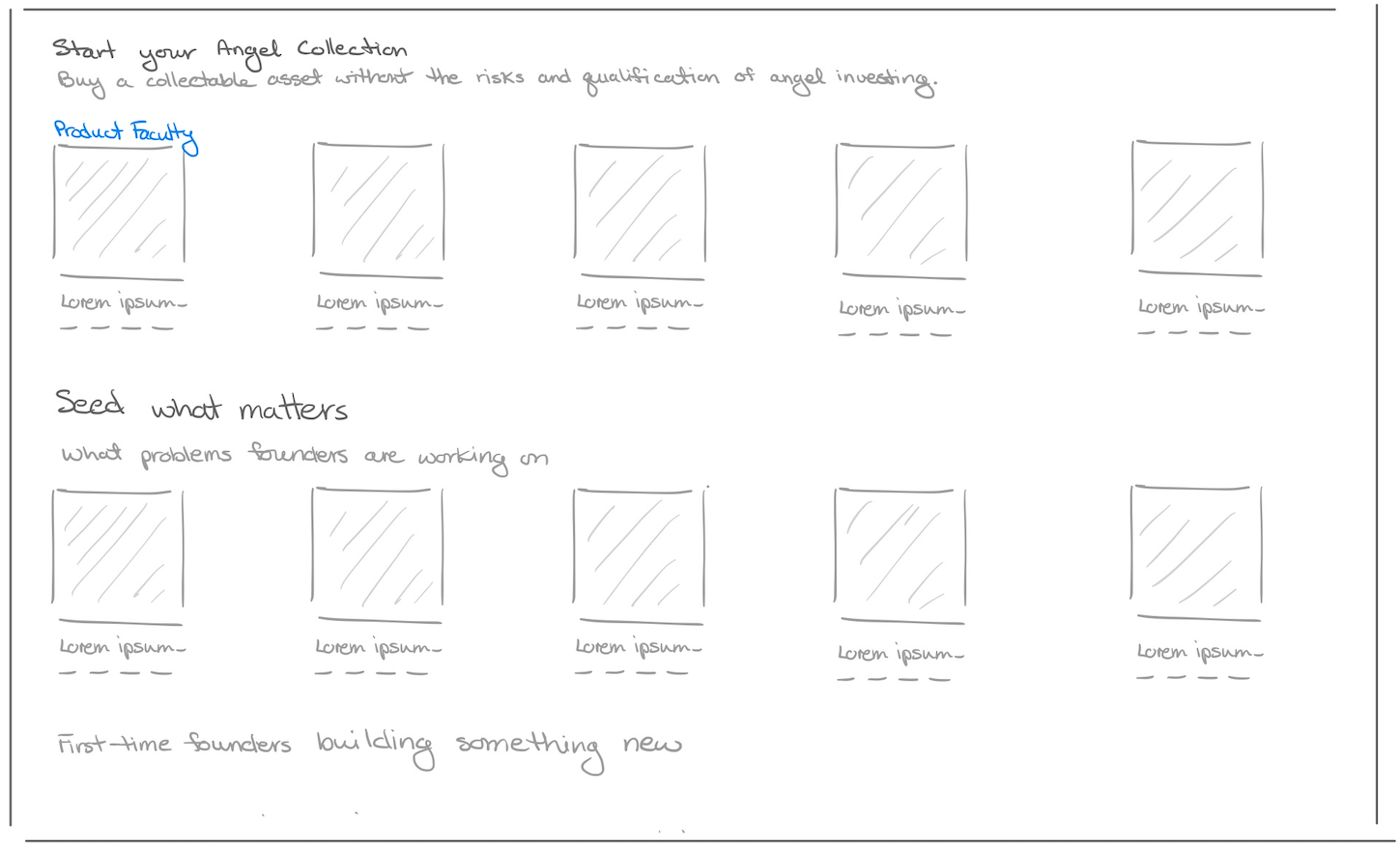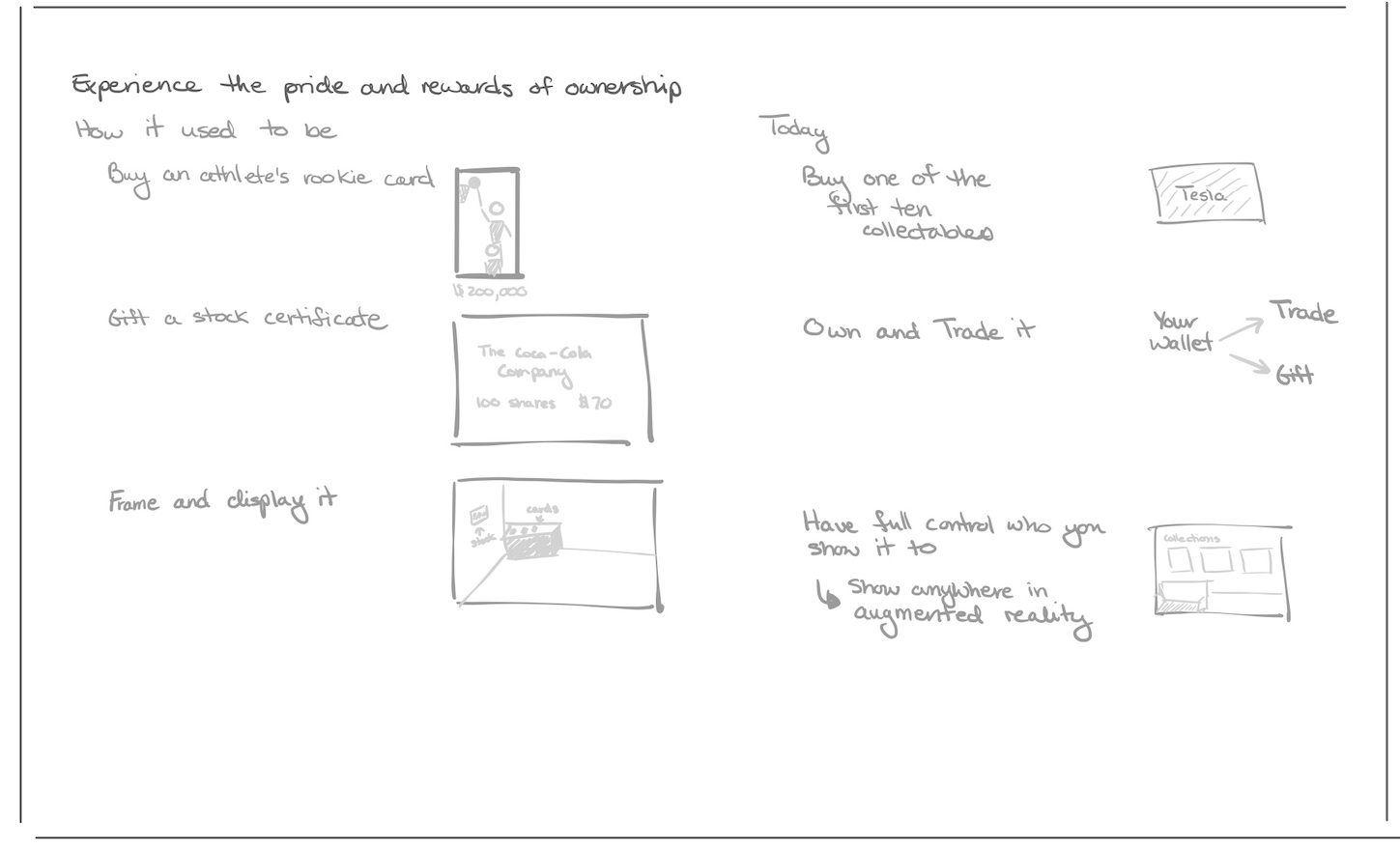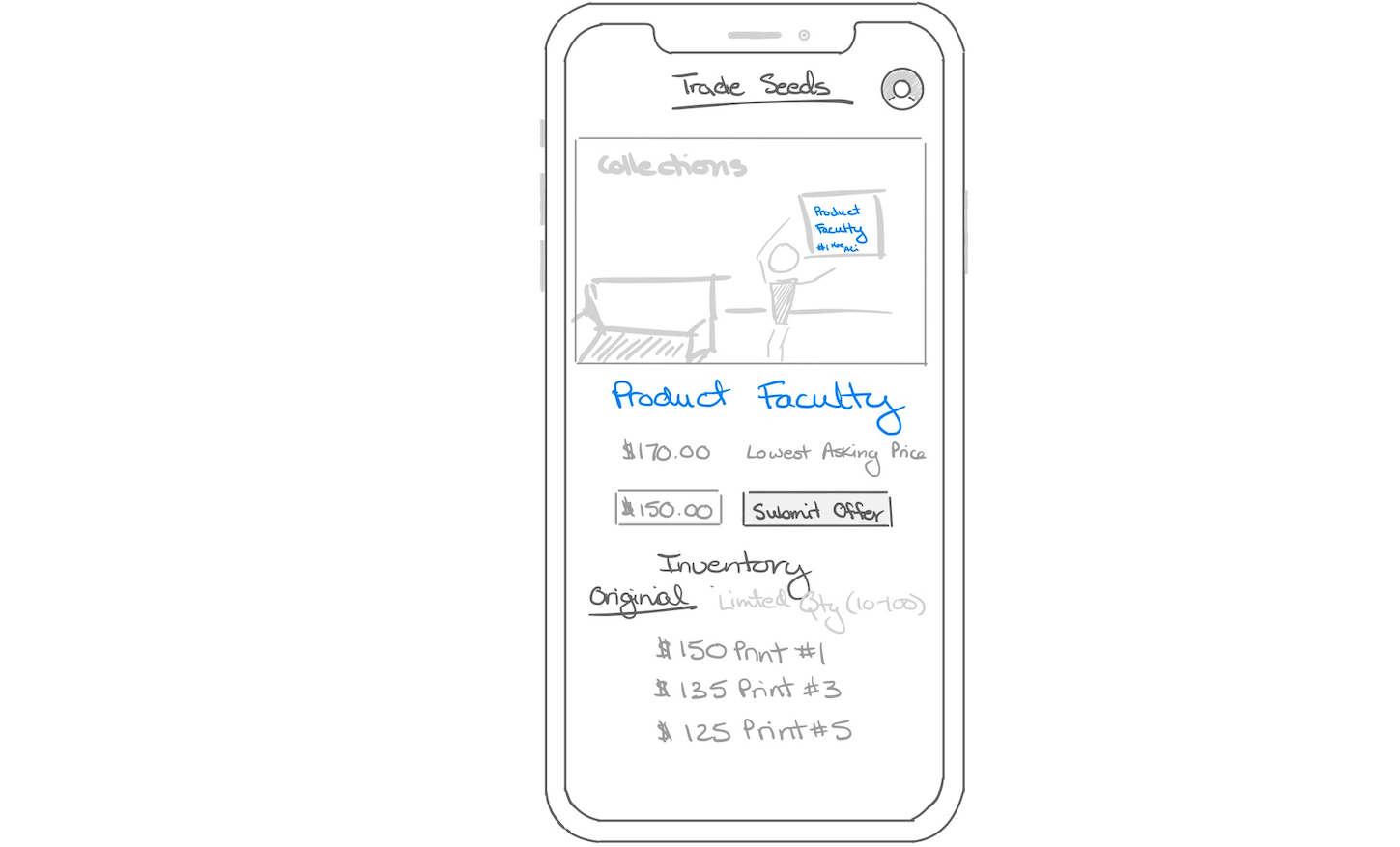 Augmented Reality Examples: first 4 seconds of video.
Go-to-market strategy
Before we can prove there is a market for this business. We need to find one founder and one investor to become true fans of our proof-of-concept. If successful, we need to deliver a simple prototype to acquire one more founder and two investors — all in three months.
We need a team (2-3 people) to wear many hats when we hit the prototype stage. They need to know or are curious to learn the following unique skills:
Function — why we need it?
Business Growth — Build relationships with founders to build the supply side, which will generate investor demand.
Engineering — Create angel assets, securely hold assets, view in augmented reality. Web for founders. Mobile for investors. Note: prototype only, not build for scale yet.
Information Security — Enable investors to control who has access and how info is shared. They need to trust us!
Legal — Define terms and conditions for holding angel assets, asset agreement, sales terms.
Marketing — Position us in the market — customers will compare and fit us into existing industries.
Product Growth — Build deep empathy with both founders and investors. Iterate on angel asset concept, its rewards, how investors share it that maximizes investors' desire.
Risk & Governance — Understand regulations for holding digital assets with monetary value.
B2C (Business to Consumer) — Communications, Experience Design, Customer Success.
Our early adopters will be existing founders working on interesting problems/ missions or in non-technology hubs that appeal to investors. We need to generate investor demand and build the supply side for this new market. Our stretch goal is to sign two high-profile Series-B companies.
It's 2021, a time all companies need to understand what bad actors will try from the start. Our preliminary hypothesis is we need to minimize their efficiency and impact in the following:
High Probability — They create fake startups to create collectables. Launder money through trading on the marketplace. Hack people's accounts to steal their collectables.
Low Probability — Use social networks to pump up the value of angel assets and dump it. Use social networks to smear startup reputations to impact the value of angel assets.
We are anchoring every decision around the following metrics for the first go-to-market execution. Founders: # that expressed interest (email/call us back) / # founders contacted. Investors: # that expressed intent to buy on prototype launch / # investors contacted.
Our revenue comes from charging a fee (basis points) on each sale. Sales include from founders to investors on the initial angel asset. Then on trades between investors once we have a marketplace.
---
Revenue potential from one founder:

)
Revenue from:

)
---
Our outlook is early on the product engineering needs. Our website and mobile channels, and marketplace needs are:

---
Next steps upon finding success with our prototype:
Develop the next team skills required to grow.
Ask - how do we hack our growth and increase channel distribution?
Fully develop the business model and costs.
Evolve product experience, strategy, and prototype solution— for the marketplace and slowly build up product solution.
Develop key metrics and north start to measure value created for customers.
Identify our rival, industry structure, total addressable market and its profitability.
---
How I made this
Empathy Mind Map — what are they thinking, saying, doing, feeling, fearing, needing. How do they map to the opportunity, value proposition, and offer. I listened to Naval's two podcast episodes (How to Angel Invest - Part 1, Part 2) to create the accredited investor.
Business Opportunity Discovery — see my detailed thought process, things I left out if I ever do a second draft.
Customer Journey Map — for our first go-to-market mvp.
Back to the Business Opportunity.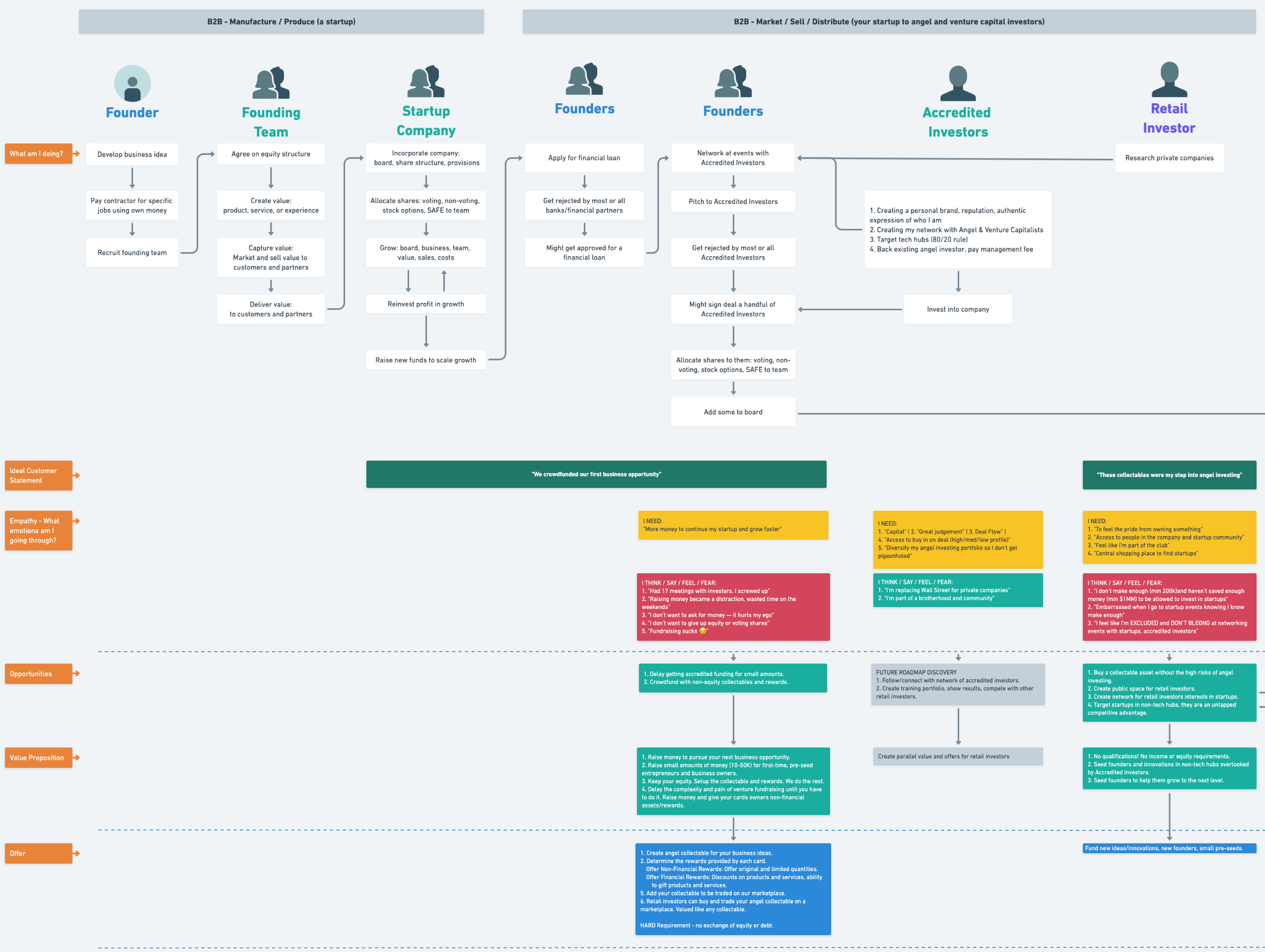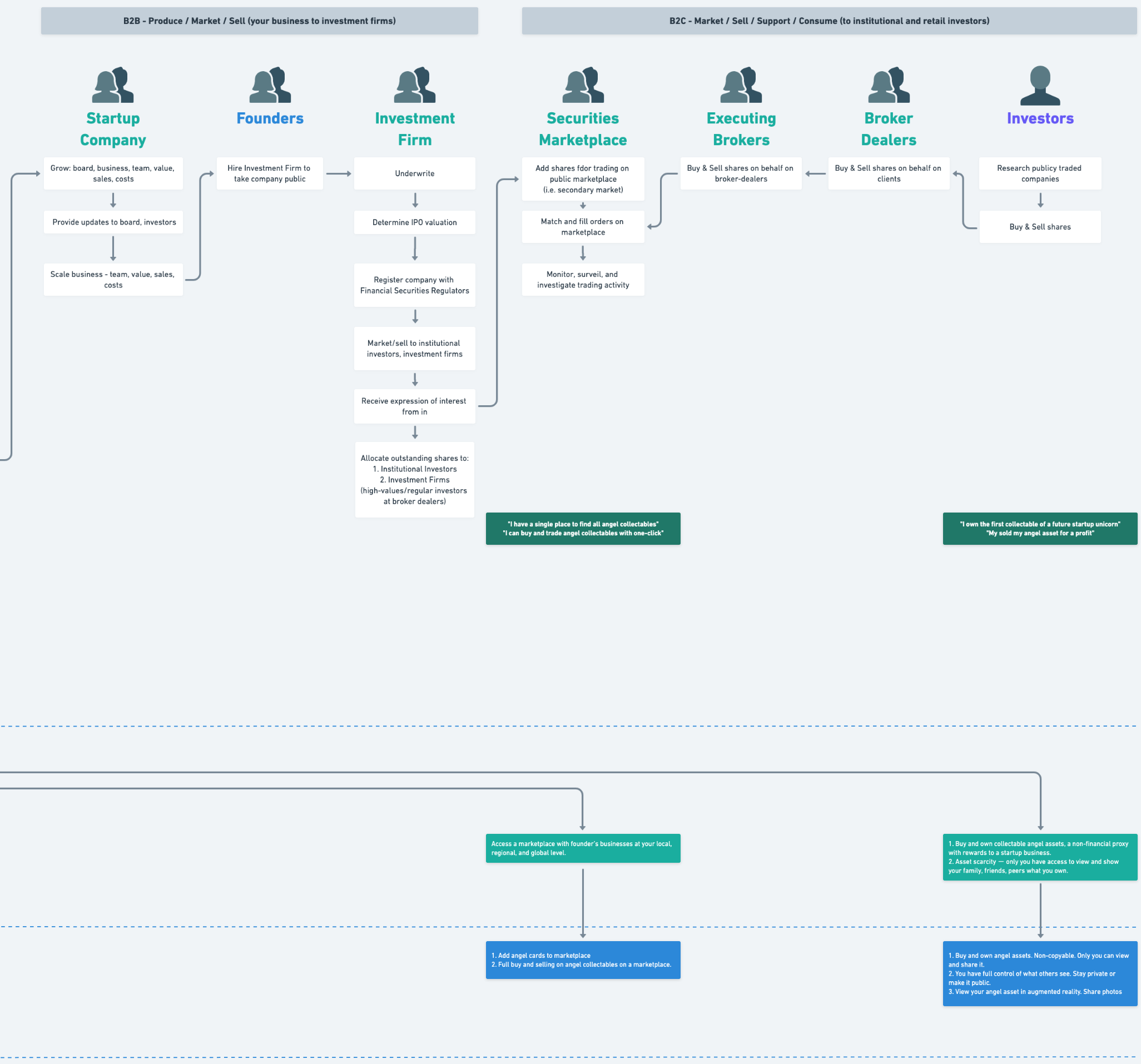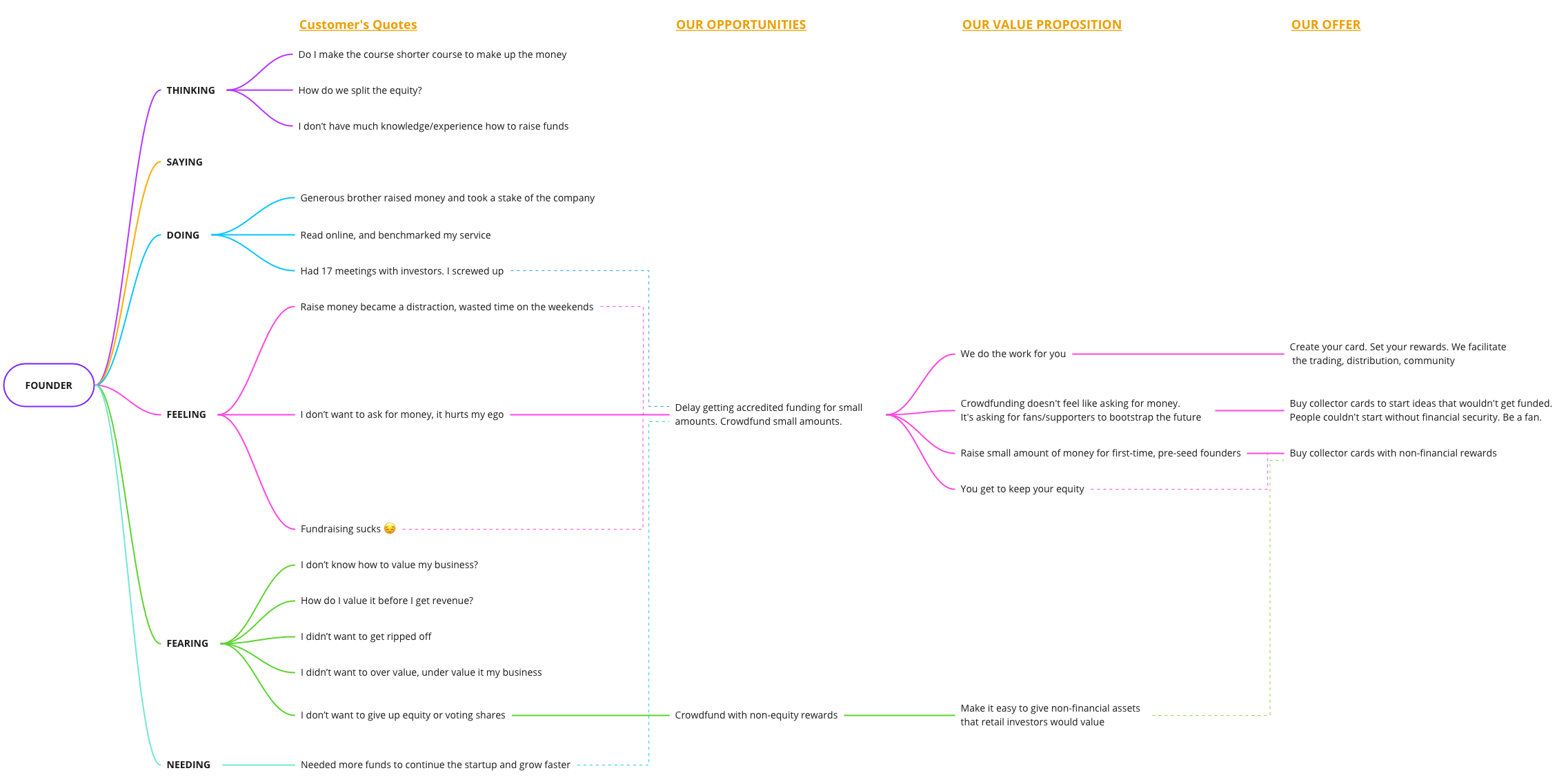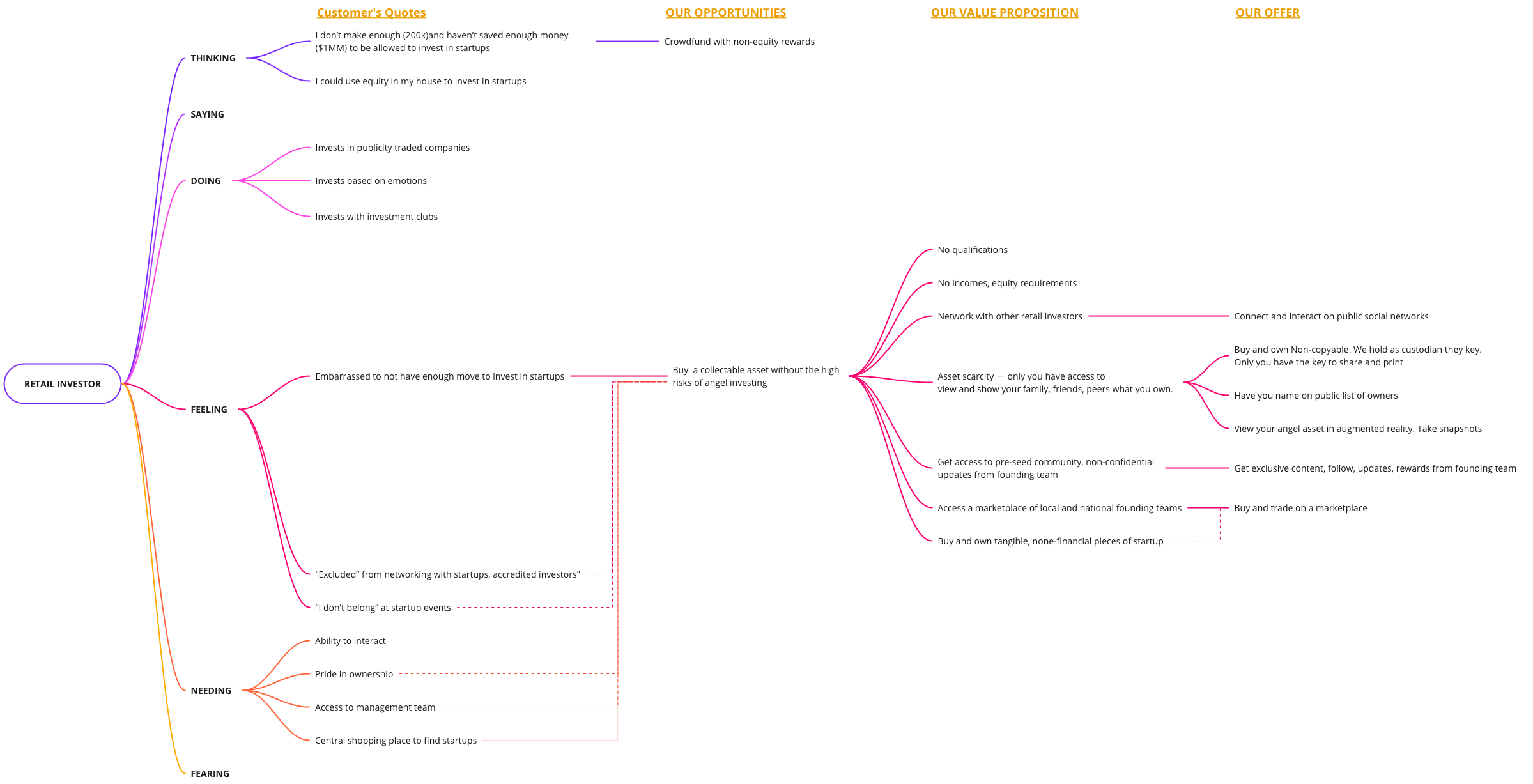 ---
Let me know
The idea — what's one thing you love? what doesn't work?
Should I build a proof-of-concept (non-development version)?
Say I found 5 true fans. Should we build a prototype (development version)? Are you curious to build it with me?
Would you invest in this idea?
Would you want me to help you build this idea into your own company?